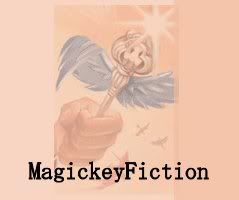 Budding writers, Harry Potter fanatics and shippers!
What's changed, I hear you call?
MEMBERSHIP IS NOW OPEN- and you are free to post whichever fictions you wish.
magickeyfiction accepts all ships, including Slash :)
Each week a new challenge will be set, giving you a chance to see if your fiction can go the distance. At the end of the week the fictions will be judged by my panel of BETA readers, Fiction obsessees and Harry potter fans.

Have you got the Magic key Talent? Can your fiction win First place? Only one way to find out....


magickeyfiction

View our NEW RULES at the user info page!

I hope you will join us!